Remembering our Business Manager, Don Mott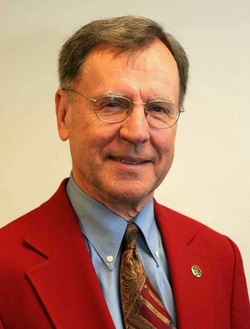 Don was an original member of The Master's Men. Music was always a big part of his life and he enjoyed singing in church and school choirs, and was a member for many years in the Barbershop Harmony Society (S.P.E.B.S.Q.S.A., Inc.).

In addition to contributing his voice to the baritone section, Don (also known to us affectionately as "Mother Mott") was our business manager. He coordinated the sale of our recordings, was the liaison between The Master's Men and the many churches where we sang, coordinated our annual coaching retreats, prepared the group's tax filings, and did so many other tasks that it now takes five members to do what Don did by himself.

While attending the University of Maine, he met his true love and best friend, Jan, and together they enjoyed a nearly 52-year romance. don and Jan both shared their love of singing and dancing. He also played the trumpet, french horn and tuba. Don considered himself and avid "average" golfer and would only play on days ending in "y!" He could easily identify any bird call for his foursome, a love for nature that he shared with his 101 year-old mother.

Don died on March 9, 2009 after succumbing to Creutzfeldt-Jakob Disease. All of us in The Master's Men and our extended families will miss Don's service, his wit and his friendship. But he has gone home to be with his Lord, and we know that we will see him again someday.



---