About The Master's Men ...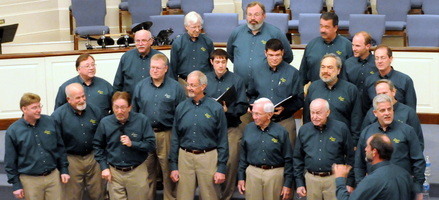 The Master's Men is a male
a cappella
ensemble dedicated to providing inspirational music to the glory of God. Our goal is to spread the message of God's love in song in ways that will enhance Christian church worship services and other programs. Arrangements include hymns, spirituals, gospel, and other musical styles in four, five, and six part harmony for unaccompanied male voices. All of our members have considerable experience singing in quartets and/or choruses and choirs. The group was originally founded by the late
Mr. Rudy Partin
, who was a skilled and experienced director and arranger. Currently, The Master's Men is blessed to be directed by Mr. Robert Cox, a talented choral director, arranger and Christian music minister. Robert is assisted by Mr. Larry Triplett, one of the group's founding members and also a gifted choral director and arranger.
For 20 years, The Master's Men has performed for churches or other religious based gatherings in North Carolina, South Carolina and Virginia. What started as a group of men singing just for pleasure has evolved into a collection of faithful Christians singing for the glory of God. We have grown in wisdom and faith, both individually and as a group, and along the way God has blessed our lives by using us to reach out and touch others though our music. We have personally experienced God's power and love and each of us has been truly blessed as we've brought our music ministry to others. We are very thankful!
The Master's Men does not charge any fees for appearances, nor do we expect any payments, for worship services. Our ministry survives on CD sales and voluntary 'love' offerings from the congregation at the time of our appearance. A nominal fee to help cover expenses
may
be charged for events that are not part of a worship service or at retirement/assisted living facilities where CD sales or love offerings may not be appropriate. Please keep in mind that the group tries to limit the travel time to a performance to a maximum of a two-hour drive from the Raleigh/Durham/Chapel Hill area. If your venue is outside of that range, we may not be able to accommodate your request or we may ask for a travel stipend to cover the additional driving expenses.
KEEP US SINGING!
If you would like to support The Master's Men beyond buying our recordings or songbooks, you can make a donation to us using the
"DONATE"
button below. The Master's Men Foundation is a registered IRS 501(c)3 Non-Profit organization. Your donation may be tax deductible! Financial contributions of any size are welcome and very much appreciated. Through people like yourself, the good Lord has blessed us abundantly over the years and has never failed to provide just what we need to continue our ministry spreading His word in song.
---